A passion for peach.
I am going to apologise now guys for yet ANOTHER post on le peach.  I'm sorry but I just can't get enough of this colour.  Everywhere I go I am drawn to it like a moth to a flame, a dog to a crotch, a fly to a shit.
As you can see here and here I have already shown you little peach numbers that I adore and here is lucky number three….last one for a while I promise.
 A simple cotton dress that was passed onto me by Tim.  She'd had it a while (not sure where she per-chased it) but it was a little 'mum'….You know what I mean, the length can be difficult, the shape was a little unflattereing and had I not styled it right people would think I was a mum from the country.  However, I love a challenge and I hate a waste and I really liked the detailing on the back…..
(hobbs cardi, gifted peach dress, maman's old beaded belt from stanley market in hong kong) 
The wooden buttons just gave it that little extra je ne sais quoi (Who's just been to France?! Moi?) and once I'd teamed it with a beaded belt and some nice heels that 'mumness' was outta there and back into the country along with a village fete and a horse riding daugther called Funella.
Another thing that it didn't have going for it was it's colour.  As posted here, le beige is a tricky colour.  Incredibly draining and well….just dull!  The dying was calling me!!! 
I tell you I searched high and low for this peach dye as it's out of stock!  Dylon doesn't do it anymore but I eventually found a hand dye (for a cotton dye I would have definately used a machine one) on some timid ancient website that sold shoe polish and ordered the beauty.
 Now, I am going to be honest with you here, we are all friends, and tell you that I actually had to dye it twice.  The first time I guessed how much six pints of water was as I had already put the dye into my one measuring jug! DUH! I was dying an old faded, yellow cushion cover as well and when they came out there wasn't that much of a difference in colour.  I reordered the dye, take 2 involved the right amount of water and I left in in there for double the amount of time.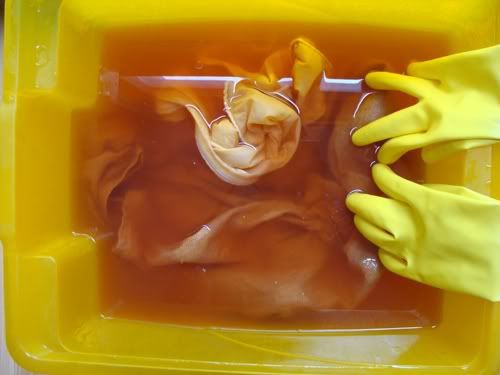 Love the new peachy passion dream dress that I now own and, as always, love the power of the dye.  It's a revolution I tell you!!!
Anyone else attempted The Dye recently?  Let us know how it goes?
Posted in Colour blocking, Did It Myself, Didn't I, La Peche, Outfit city